Welcome to Afon Engineering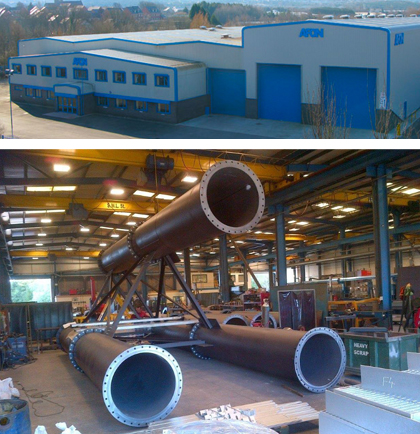 Engineering & Specialist Fabrication Services
Formed in 1979 by Mr A Beaujean, Afon Engineering is a family run business providing engineering solutions to local, national and international marketplace. With over 30 years' experience Afon's success has arisen from its focus on providing quality, and cost effective solutions to all of its customers.

With our highly skilled workforce and management, we aim to provide a complete service to our customers, from post contract early involvement to project completion. Our engineering capabilities cover design and detailing, rolling, forming and pressing, machining, profile cutting, fabrication and welding, protective treatment and installation controlled through our Q/A management system accreditation.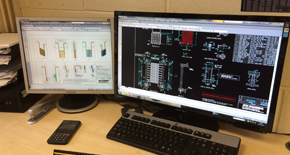 Afon utilise specialist design engineers to carry out analysis of structures and pressure vessels to required codes of practice. We have in house CAD capabilities and development software, supplemented by external facilities as....
Rolling facilities at Afon enable the forming of complete cylinders or partial multiple plate segments, to meet the demands of gas or liquid storage, pressure vessels, and all other types of cylindrical components required within our...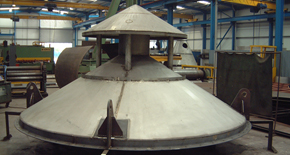 Press brake facilities at Afon allow for the forming of light to heavy plate products to produce cylindrical, conical, square to round, and many other complex shapes in thicknesses from 3mm to 75 mm in ferrous and...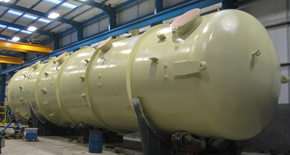 We offer fully equipped painting facilities that provide protective coatings to the widest range of products for Oil and Gas, Energy and Power, Structural Steelwork and Bridges sectors. We apply a series of multi coat protective systems...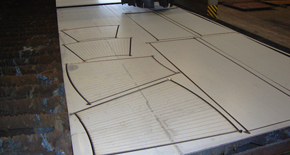 Afon use an ESAB Supraex 5000 Plasma machine with the added facility of oxy-acetylene. This equipment provides outstanding levels of precision across all operations and utilises VISION 51 control and Columbus...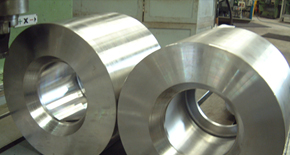 Afon Engineering has invested in its machining capabilities to enable a complete service in the manufacture of large fabricated assemblies that require machining operations for tolerance and accuracy of component, together with general...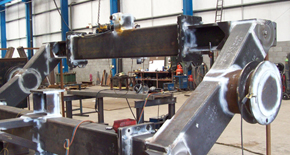 Afon Engineering Ltd continued investment ensures state of the art equipment and machinery to produce all types of structural fabrications, pressure vessels, pipework, skids, and bridges etc.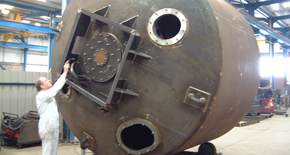 Afon operates a Quality Management system externally assessed by Bureau Veritas to the requirements of EN ISO 9001: 2008. Quality Plans, Inspection and Test Plans are produced in accordance with project specification...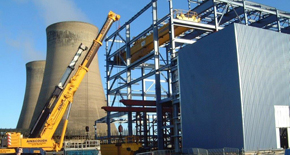 30 years' experience with project installation. Production of method statements for all activities presenting a risk to health and safety. Detailed lifting plans to demonstrate stability on lifting and landing as required.
Afon Engineering
are experts at providing the following industrial steel & metal services:
•

Plasma cutting

•

Aluminum bending

•

Angle ring rolling

•

Flanges

•

CNC milling

•

Construction

•

Custom metal fabrication

•

Energy

•

Fabrication

•

Bridge construction

•

Welding

•

Installation specialists

•

Metal tube bending

•

Pipe bending

•

Non-Destructive Testing (NDT)

•

Plate flattening

•

Press braking

•

Pressure testing vessels

•

Roll forming sheet metal

•

Rolled pipes

•

Section bending

•

Sheet metal bending

•

Steel fabricators

•

Steel plate rolling

•

Special plate development and bevel