Plate Rolling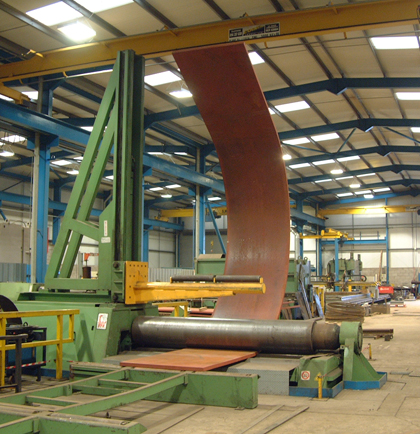 A Complete Range Of Plate Rolling Services
Rolling facilities at Afon enable the forming of complete cylinders or partial multiple plate segments, to meet the demands of gas or liquid storage, pressure vessels, and all other types of cylindrical components required within our industry.
We work extensively with ferrous and non-ferrous materials through a range of material thickness from 3mm to 60mm.
A proportion of our range can be pre-ended without an additional bending allowance to minimise waste and can be supplied with plasma cut or machined edge preparations inclusive of machined tapers to suit design requirements.
In addition our extensive fabrication, welding and machining capabilities enable us to offer 100% completed components or assemblies, fully certified to specification requirements, conducted to International standards of practice.
Rolling Capabilities at Afon Engineering:


3000 x 45 mm - Fully CNC
3000 x 20 mm - Fully CNC
2250 x 10 mm - ( For min 230 dia Tubes)
1250 x 10 mm - ( For min 150 dia Tubes)
Large thickness range.
End / edge preparing available, machined or flame cut
All welding needs catered for to International standards using Submerged Arc and Flux cored welding processes.
Can supply rolled, prep roll and bridge tack or rolled and welded
Heat treatment to requirements
NDT testing as required by qualified in house and external inspectorate.
Please contact sales team on 01792 310022 for enquiries and assistance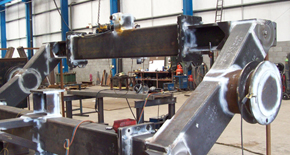 Afon Engineering Ltd continued investment ensures state of the art equipment and machinery to produce all types of structural fabrications, pressure vessels, pipework, skids, and bridges etc.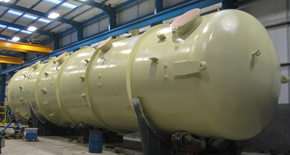 We offer fully equipped painting facilities that provide protective coatings to the widest range of products for Oil and Gas, Energy and Power, Structural Steelwork and Bridges sectors. We apply a series of multi coat protective systems...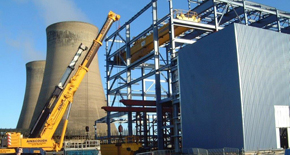 30 years' experience with project installation. Production of method statements for all activities presenting a risk to health and safety. Detailed lifting plans to demonstrate stability on lifting and landing as required.
Afon Engineering
are experts at providing the following industrial steel & metal services:
•

Plasma cutting

•

Aluminum bending

•

Angle ring rolling

•

Flame cutting specialists

•

CNC milling

•

Construction

•

Custom metal fabrication

•

Energy

•

Fabrication

•

Flanges

•

Welding

•

Installation specialists

•

Metal tube bending

•

Pipe bending

•

Non-Destructive Testing (NDT)

•

Plate flattening

•

Press braking

•

Pressure testing vessels

•

Roll forming sheet metal

•

Rolled pipes

•

Section bending

•

Sheet metal bending

•

Steel fabricators

•

Steel plate rolling

•

Special plate development and bevel