Machining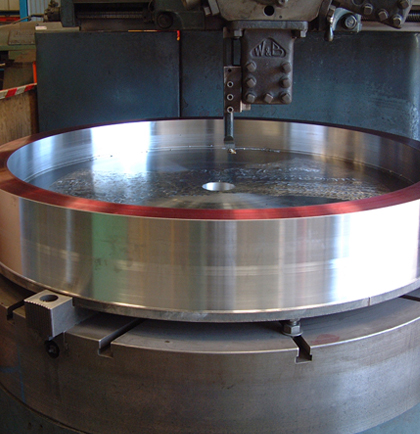 Precision Engineering Guaranteed
Afon Engineering has invested in its machining capabilities to enable a complete service in the manufacture of large fabricated assemblies that require machining operations for tolerance and accuracy of component, together with general machining of large diameter gas line spool inserts, shafts, bearings, flanges, skid assemblies and accumulator beds etc.

Workshops has overhead crane facilities that can handle up to 10 ton capacity load, and a wide selection of conventional and CNC milling machines and lathes inclusive of a 10 metre CNC Elgamill.
Our experienced staff have an in depth knowledge of all kinds of ferrous and non-ferrous materials and we pride ourselves in our abilities to carrying out precision engineering.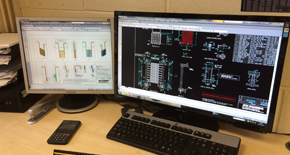 Afon utilise specialist design engineers to carry out analysis of structures and pressure vessels to required codes of practice. We have in house CAD capabilities and development software, supplemented by external facilities as....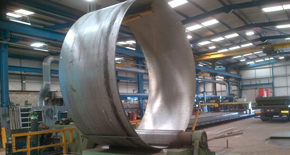 Rolling facilities at Afon enable the forming of complete cylinders or partial multiple plate segments, to meet the demands of gas or liquid storage, pressure vessels, and all other types of cylindrical components required within our...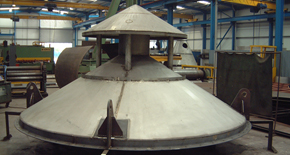 Press brake facilities at Afon allow for the forming of light to heavy plate products to produce cylindrical, conical, square to round, and many other complex shapes in thicknesses from 3mm to 75 mm in ferrous and...
Afon Engineering
are experts at providing the following industrial steel & metal services:
•

Plasma cutting

•

Aluminum bending

•

Angle ring rolling

•

Bridges

•

CNC milling

•

Construction

•

Custom metal fabrication

•

Energy

•

Fabrication

•

Flanges

•

Welding

•

Installation specialists

•

Metal tube bending

•

Pipe bending

•

Non-Destructive Testing (NDT)

•

Plate flattening

•

Press braking

•

Pressure testing vessels

•

Roll forming sheet metal

•

Rolled pipes

•

Section bending

•

Sheet metal bending

•

Steel fabricators

•

Steel plate rolling

•

Special plate development and bevel