Profiling and Cutting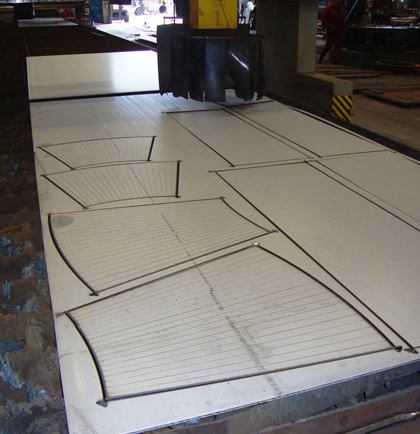 State-Of-The-Art Profiling
& Cutting Machines
Afon use an ESAB Supraex 5000 Plasma machine with the added facility of oxy- acetylene. This equipment provides outstanding levels of precision across all operations and utilises VISION 51 control and Columbus 3 programing and nesting system.
With a 30 metre x 4 metre bed cutting capability we are able to profile the largest formats and more parts in less time, through the benefit of intelligent automated production.
In addition, we are also able to automatically produce beveled edges for welded seams and tapers, to suit the requirements of weld joint set up and design.
Our in house drawing capability allows for the receipt of customer drawings in DWG, DXF formats etc. which are compatible with our own internal software package.
AFON Cutting Capabilities:-

Large 30 metre x 4 metre cutting bed capacity.
Up to 65 mm thickness in stainless steels and non-ferrous materials
Up to 250 mm thickness in carbon steels.
20 Ton EOT crane lifting capacity.
Guillotines:-

Please contact sales team on 01792 310022 for enquiries and assistance.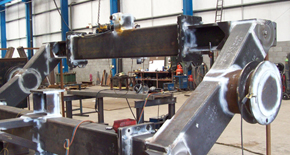 Afon Engineering Ltd continued investment ensures state of the art equipment and machinery to produce all types of structural fabrications, pressure vessels, pipework, skids, and bridges etc.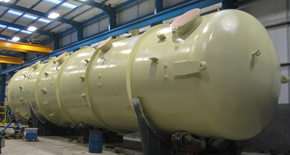 We offer fully equipped painting facilities that provide protective coatings to the widest range of products for Oil and Gas, Energy and Power, Structural Steelwork and Bridges sectors. We apply a series of multi coat protective systems...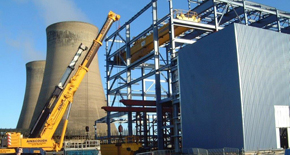 30 years' experience with project installation. Production of method statements for all activities presenting a risk to health and safety. Detailed lifting plans to demonstrate stability on lifting and landing as required.
Afon Engineering
are experts at providing the following industrial steel & metal services:
•

Plasma cutting

•

Aluminum bending

•

Angle ring rolling

•

Bridges

•

CNC milling

•

Construction

•

Custom metal fabrication

•

Energy

•

Fabrication

•

Flanges

•

Welding

•

Installation specialists

•

Metal tube bending

•

Pipe bending

•

Non-Destructive Testing (NDT)

•

Plate flattening

•

Press braking

•

Pressure testing vessels

•

Roll forming sheet metal

•

Rolled pipes

•

Section bending

•

Sheet metal bending

•

Steel fabricators

•

Steel plate rolling

•

Special plate development and bevel